As Springtime days are warming, we start to notice the tiny flowers of CoSM heroically poking their heads up. The spirit of green is beginning to bud from the grounds to the trees. Two upcoming holidays honor the new spring by addressing the spiritual meaning of rebirth and liberation.  Passover is celebrated every year on the Full Moon following the Vernal Equinox. Easter is celebrated on the Sunday after the Full Moon following the Vernal Equinox. Join us this weekend for music, art and a meditation on personal and global freedom from "the tight place."  Maybe the tight place, symbolically, is the constriction of fears in our ego that keep us from courageously pursuing our highest possibility.  Tales of spiritual trial and transcendence encourage us to keep wrestling with the Creator.
The Magic of Mushrooms

As new life is springing from the earth, the kingdom of fungi is playing a critical role in building and sustaining a healthy ecosystem. Martin Bridge, CoSM's Mycological Ambassador, will discuss how mushrooms offer significant medicinal and nutritional value to our diet and the environment. Find out how mushrooms improve the soil, how mushrooms are cultivated and how mushrooms could save the planet. Learn to identify a number of species and participate in a hands-on demonstration of log cultivation that will be gifted to CoSM.
Full Moon Ceremony and Beyond

CoSM's 148th consecutive Full Moon Ceremony will include music, performance, wisdom, blessings, declarations and more. After the performative "spiritual variety show," connect with the community, chat with Alex and Allyson, enjoy lounge vibes, get your posters and books signed…  Then, fire up your ecstatic dance groove with Yheti's live ever-morphing detailed sound sculpture of electronic music, accompanied by mind-bending Visual Projections. Alex will offer one Supportrait during the evening. Some of our favorite Visionary Artists will be Live-Painting in the Visionary Victorian. Have your Tarot read. Hang out around the fire circle and witness heroic fire spinning and great vibes.
Yoga with Shipra Saraogi at CoSM

Attune before Art Church at Shipra's not-to-be-missed yoga session.
The class is growing. Come early.
Art Church -- Seder/Easter Interfaith Ceremony

The Passover Seder is a Jewish ceremonial dinner celebrating liberation. Ritual food commemorates both the ancient history of the Jewish people and reminds us of the freedom from oppression we have been seeking or have found in our personal and spiritual lives.
Easter, considered by many Christians as the most important holy day, celebrates the story of Jesus Christ's resurrection, his liberation of the flesh three days following his death by crucifixion. The mysterious death of Nature's greenery in Winter, and joyous rebirth in Spring is mirrored in the celebrations of the season.  We will examine how artists have depicted classic moments from the Bible, and how depiction of scripture is one of the foundations of sacred art.
Join us for Seder/Easter Art Church this Sunday where we will draw from divine spirit as we examine "the tight place" that oppresses body, mind and spirit, and vision our liberation. Bring a sketch book and colors.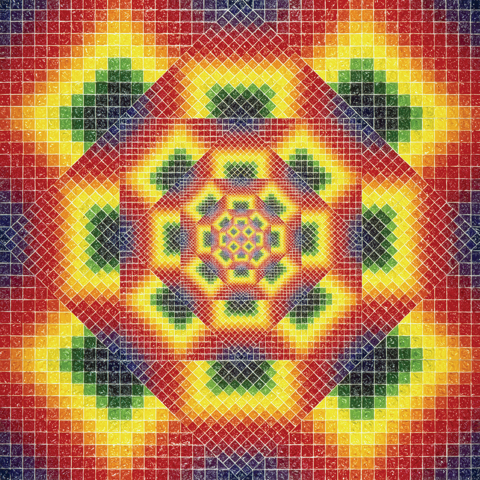 "Order" by Allyson Grey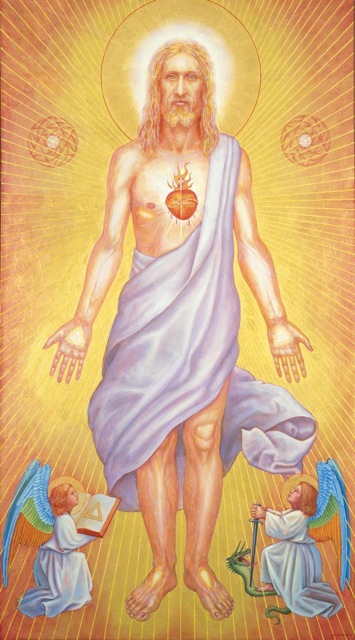 Christ, from the Sacred Mirrors by Alex Grey
JOIN US ON THE ROAD
After a winter hiatus from travel, we are gearing up for some very special events across the country.  Join us at these locations:
In Chicago with PAPADOSIO at Concord Music Hall
    Saturday, April 11, 2015, 8-2am
In San Francisco -- Annual Bicycle Day Celebration @ The Warfield
    Saturday/Sunday, April 18/19
   A & A with Beats Antique, Emancipator Ensemble, Thriftworks, Desert Dwellers,
   Visual Projections by Johnathan Singer
In Central Florida -- Purple Hatter's Ball
    Spirit of Suwannee River Park
Friday, May 8th only
   A & A with Lotus, Nahko & Medicine for the People, Random Rab....
In Boulder, Colorado
    Red Rocks Amphitheatre,  Morrison, CO
    Sat, May 16, 4:30pm
   A & A with Tipper and Android Jones
It's going to be an epic Spring! Hope to see you soon!
Love,
Alex & Allyson