In 1985, on our maiden MDMA voyage, when MDMA was still a legal therapeutic pharmaceutical, we lay on our bed with our blindfolds on, not talking or touching, and both witnessed in our mind's eyes, a mandalic Chapel of Sacred Mirrors. Sharing the astonishment over a simultaneous vision, we made our commitment to build a transformative environment to exhibit the Sacred Mirrors paintings. For many years, we shared with friends about our deep intention to build a sanctuary of visionary art.
It wasn't until January 2003, following the advice of our shaman, Alex Stark, that we commenced CoSM Full Moon Ceremonies in our home in Brooklyn.  At that first ceremony, with about ten supporters, Alex Stark created a "Despacho," a bundle packed full with intentionally enfused elements of every variety intended to communicate to venerated forces of Nature and Higher Realms. On the New Moon, our shaman walked the despacho up a mountain and left it as a special offering.  Within four months of CoSM's first Full Moon, a space was offered for the first Chapel of Sacred Mirrors. It was in Chelsea, by night, New York nightclub central, by day, heart of the art world.  Within Full Moon Ceremonies and Celestial Celebrations (Equinoxes and Solstices], rituals have guided us to join with community in creating a contemporary, radically welcoming, trans-denominational sacred space, a testifmonial to the power of ceremony and ritual.
For decades, Donna Henes, Urban Shaman, has led hundreds of ceremonies and rituals around the world and in her hometown of New York City.  The National news media has covered her public events standing hundreds of eggs on end at City Hall Plaza on the Equinox. She founded Mama Donna's Tea Garden in "Exotic Brooklyn," a hub for celestial celebrations in the Big Apple. With Donna's light heart and a serious commitment, city dwellers are honoring passing seasons and giving homage to our relationship with the cosmos. Join us at CoSM this Saturday, March 28th to learn and experience the art of creating rituals and holding ceremony with our dear friend Donna, the Urban Shaman.
Saturday Afternoon: Spelling it Out: Ritual Rules of Engagement
The need for ritual is a basic human instinct, a compelling urge to merge with the infinite. Ceremony — solitary or shared, public or private — offers us a way to relate intimately with the primordial force, and to embrace that sacred power which informs and fuels all existence. Ritual is our lifeline to the divine.
Ritual adds richness to our lives. Special times call out for special ceremonies — whether to consecrate new beginnings and growth, to honor relationships and responsibilities, to celebrate achievements and joys, or to ease times of pain and burden. There is great value to be gained by taking the time and making the effort to infuse these milestones with significance and sanctity. By ritualizing our profound passages, we honor our personal journey, our loved ones, our affiliations, and our connection to Spirit.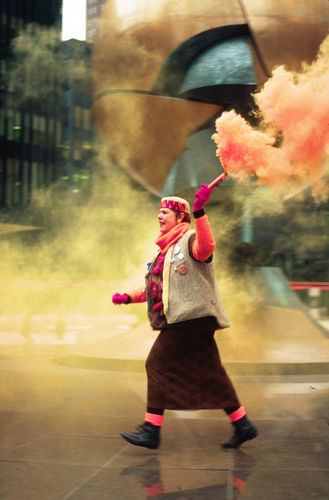 Donna Henes, Urban Shaman
Join renowned ritualist 
Mama Donna Henes, Urban Shaman
, as she guides you through the meaning, the mind-set, the mood, the method, and the magic of establishing a ceremonial order to your life. You will experience an intimate, imaginative, and engaging taste of the potent rewards of establishing a personally resonant ritual practice. And you will gain the spiritual and practical wherewithal to enable you to design and enact meaningful, transformational rituals and rites of transition for yourself, your family, your business, your organization, and your community.
The Vernal Equinox Celebration at CoSM this past weekend was one of the most beautiful, because of all the loving smiles from so many friends.  Thank you to the community for building sacred space together!
Love,
Allyson and Alex