What is the most important thing we could say about relationships? The sacred and transformative path of love is unique for every person. Yet in every case communication is key. Some relationships are meteoric, burn brightly, last briefly whereas some couples burn with passion for a lifetime. Loving couples early in their relationship might believe they desire a relationship that lasts a lifetime. Transformation is guaranteed. Is it possible that your relationship is perfect as it is and that your partner is perfect as they are, perfect for you for this moment? What is the gift that is being offered in difficult moments, the teaching we are meant to learn about ourselves, the one true relationship.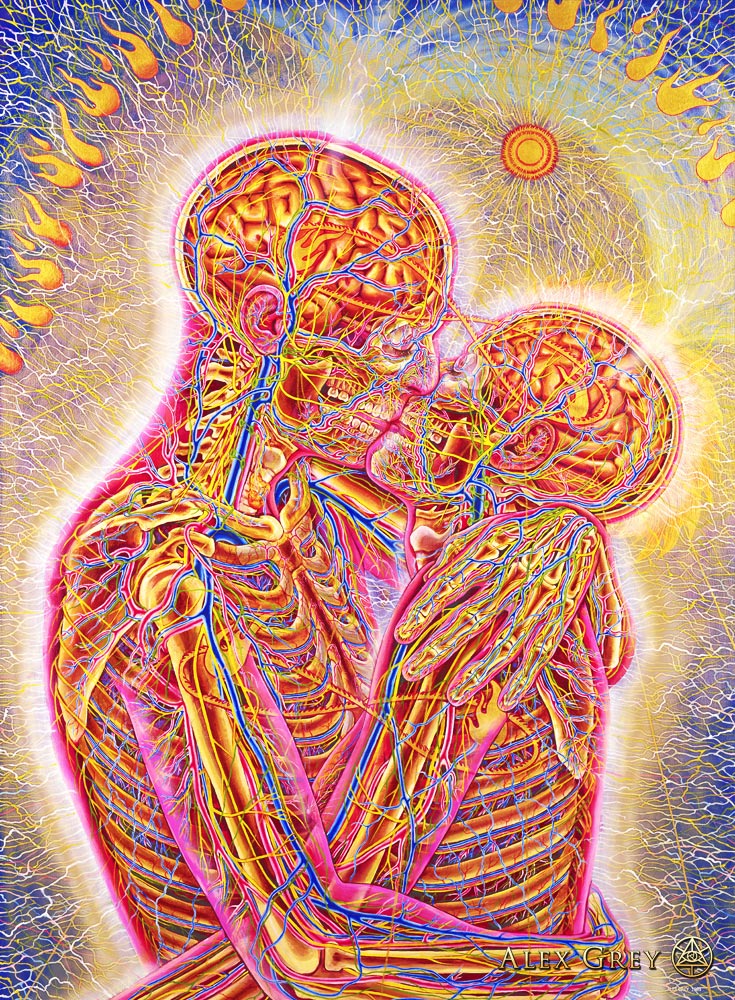 "Kissing" by Alex Grey
When we first fall in love we can be amazed with how perfect the beloved is for us, the answer to our prayer. The beloved can become a portal to the infinite because love is infinite and the beloved is the Sacred Mirror that shares this Divine energy. With the beloved, we step outside the safety of our own skin and open our heart to communicate soul to soul. This ultimate overlapping of souls comes from a deep compassion and respect for the other while celebrating the synchronistic journey that brought you together. The path of love is the supreme gift of the cosmos.  Dr. Albert Hofmann called the experience of love "the highest transmutation of sunlight."
Someone who cares about you -- do we want anything more? With a beloved, we feel grateful personally and transpersonally. We feel like we've been gifted with good fortune in the relationship column. We feel overarchingly appreciative for the existence of our universe. When two people care about each other life becomes tolerable. The beloved is a sanctuary for our soul.

THE ART OF LOVE: VALENTINE'S WEEKEND
Join us for a very special Valentine's Dinner at CoSM. Amanda Beame, the CoSM's chef, a graduate of New York's venerable Culinary Institute of America, has an exquisite meal planned. Wine will be shared at dinner. After dinner, champagne and chocolate around the Library fireside. Us lovers will all discuss the pathos, the hilarity, the struggles, the joys of being in partnership.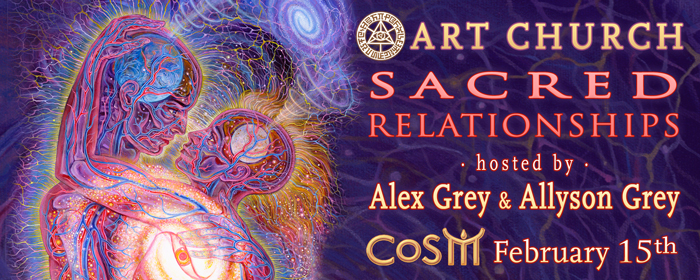 On Sunday afternoon (1-5pm), Art Church will feature Sacred Relationships.
Why we fall in love is a mystery, but how we make our relationships work and last a lifetime has been studied and analyzed. The description of an ideal mate transcends physical appearance or material success. Qualities that one couple might treasure could be repellant to another. A pleasing balance of intimacy, passion and dependence is an interpersonal matter that may differ for any couple. Character flaws in our partners have to be expected. None of us are perfect but what is unacceptable?Are there any constants that can be identified, common criterion that make relationships work universally?
To honor Valentine's Day, we will lead Art Church with an illustrated interactive discussion about Sacred Couples. While statistics may tell us that 50% of marriages end in divorce, what of the other 50%? What is the recipe for choosing the best mate and remaining in love? Join in a discussion on why successful relationships are evolutionary. Hear how biological strategies like adaptability, symbiosis and "survival of the fittest" apply to relationship choices and sustainability. What is the anatomy of a healthy disagreement? Can "reciprocal altruism" result in a holy love pact that lasts a lifetime? It is our experience that a transformative bond can activate a spiritual/creative life and open a universe of possibilities otherwise unimaginable.
Join us this Sunday at CoSM for an Art Church honoring the undeniable treasure -- a life in love.
The Wappingers and Their Vision of the Land as a Living Being:
How the First People of Dutchess County Lived in Harmony with the Environment


Evan Pritchard, foremost scholar on the Hudson Valley native people, will present an illustrated talk at CoSM addressing the Wappingers Confederacy's relationship to the land we share today. Evan will discuss CoSM's land from a permacultural perspective that integrates social and natural systems of the land and its people. Evan is a professor and the author of Native New Yorkers: The Legacy of the Algonquin People of New York, and 22 more scholarly and fascinating books on the history of native people of our region.
Join us in the CoSM LIbrary before a cheerful fire for an evening with this erudite educator on a topic of deep local history.
A & A Relationship Workshop Continues on Evolver
Check out our friend, Annie Lalla's series of conversations with leading edge thinkers all about Relationships, hosted by the Evolver Network. Our turn with Annie will be on Tuesday, March 17th when we will address Life Partnership and Collaboration. Join us for more blab about our favorite subject, the only subject, Love. Proceeds support Evolver.    7:30PM New York •  4:30PM San Francisco  Full Course Description Here
Visionary Salon with Dennis McKenna


Alex and Dennis McKenna were roommates on Alex's first series of ayahuasca journeys some fifteen years ago in Brazil. Since then, Dennis, Alex and Allyson have attended numerous conferences addressing the subjects of cognitive liberty, psychedelic science and Entheoculture. Dennis shares a razor-like scientific intelligence from a soul that has stared God in the face. At CoSM, Dennis will also share his perspective on being a McKenna. Join us.
Happy Valentine's Day!
Love,
Alex & Allyson