Setting Intentions
What will we realize this year? This coming first Saturday of the year, we look forward to celebrating CoSM's 145th consecutive Full Moon Ceremony. Join us for the Pre-Full Moon Workshop to imagine, write and draw our highest intentions, through the lens of personal transformation and manifestation.
Just after New Years is a perfect time to reflect on positive future possibilities, supported by the group soul light body of the collective. Explore the alchemy of intention setting empowered by words and imagery that points to what is dearest to our hearts. Create a symbol, an artwork to assist us in visualizing and activating our declaration. To operate as a transmitter of consciousness, sculpt a charged artifact, a psychotronic talisman representing your intention. On an altar or place of attention, the self-created power-object offers support for focusing mindfulness on our important objective. Visualizing and embodying the heart of our commitment, we will plant seeds of awakening that will become the soul flowers of our future. Supercharge your most uplifting insights for 2015 with spiritual and creative friends at CoSM.

Art Church this Sunday -- Sacramental Culture
Every Art Church begins with a drawing meditation. This week we will focus on the holy subject of Sacrament. Bring a sketch book and/or journal and colors. A presentation on Sacramental Culture will follow the meditation and end with a drawing exercise.
From the cradles of Eastern and Western civilizations to contemporary trance and neo-shamanic subcultures, religion and the ingestion of sacraments is as old as history itself. Through plant medicines, contemporary explorers have reconnected with archaic cultural roots that precede Judeo-Christianity. Forming an underground planetary spiritual movement, a growing tribe of psychonauts risk hell to experience heaven. At January's Art Church, we will trace generations of God seekers through their extraordinary visual portrayals of inner journeys and glimpses of the divine imagination.

TIPPER CHILLOUT SET AT CoSM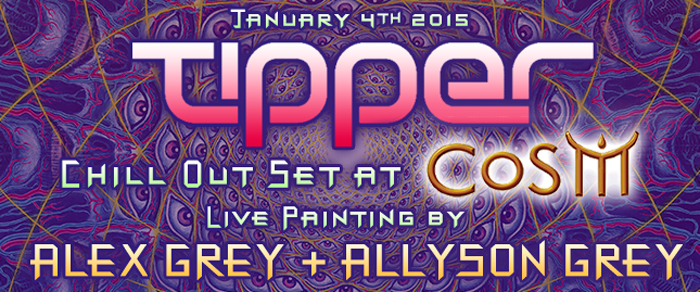 (
click banner for tickets
)
After Art Church, a "secret 'til now" special event with TIPPER!!!
This Sunday,
join us for an early evening Red Rocks Pre-Celebration when Tipper comes to CoSM to offer an exclusive chillout set to help raise funds for Entheon.
This event will feature an hour long special selection of unreleased ambient music that Tipper has produced dating back to 2001. In the spirit of the 'chillout rooms' of old there will be plenty of seating, cushions, and opportunity to contemplate.
We will be live painting in the Dining Hall with Tipper, joined by Johnathan Singer's projection wizardry, marrying the music and the art. Of the 150 tickets available, there are only 60 tickets left, with all proceeds being donated to CoSM, and the musical performance will be simultaneously patched into other rooms in the Gallery in expectation of this event reaching capacity.
This event will most likely sell out online. Purchase tickets now. [
click here
]
Tickets are ONLY $15 for this special program by the sublime electronic musician, Tipper!
RED ROCKS - ALEX & ALLYSON WITH TIPPER AND OTT
May 15th,
we will hit the big-time, painting on stage with Tipper at the glorious Red Rocks Ampitheatre in Boulder, Colorado.
Get tickets online now
[here]
to this historic convergence that includes digital painting & light projection maestro, Android Jones. Johnathan Singer the light slinger extraordinaire will be mixing his dazzling animations with scenes of us live painting.
Before January 1st, consider an
end of year contribution
toward building sacred space at CoSM. As the walls are rising, join us in the epic construction of
Entheon, Sanctuary of Visionary Art.
We are here at CoSM to create this holy place with you as a gift to the world.
Wishing everyone the happiest of New Years. Build with us in 2015!
Love,
Alex and Allyson