Success on the Path
Last Friday, Alex, Allyson and CoSM CFO, Matt Dudin met with lawyers and bankers at Rhinebeck Bank to close on loan refinancing that offers $900K to build Entheon. After an ocean of paper work, and thanks to the unstoppability of Matt, a four year journey to this destination is accomplished. Our architect, Shea Murdoch has submitted plans to the Town for review and now, when we can get a building permit, let the building begin. The loan will allow us to create the right place to put the paintings back on view, inside a properly illuminated, acclimatized and secure structure with the building and grounds infra-structure essential for such a public offering. To complete the sculptured exterior, CoSM must raise an additional $1.5 M. Target for completion of Entheon interior: Autumnal Equinox 2016.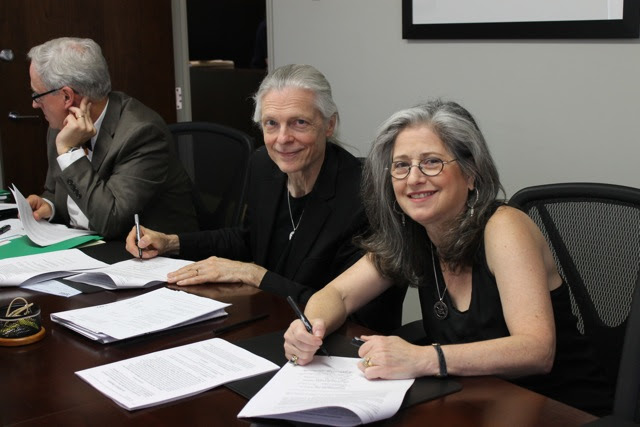 Closing on loan for building ENTHEON, August 29, 2014 at Rhinebeck Bank, Poughkeepsie, NY
We thank all of you who have been part of bringing the vision of Entheon into manifestation. Your prayers and donations or attendance to a CoSM event, or any purchase in the store has enabled us to continue our quest to build 21st century sacred space together for the planetary love tribe! 1500 people from last years Kickstarter campaign helped us to pay for the architectural and engineering drawings needed to begin the building, and to make this cool model!!!
Soon, demo and groundbreaking!!!!
Church of Sacred Mirrors

This is the first small print out of Entheon, the upcoming sanctuary of Visionary Art at CoSM. Learn more about the Entheon project. (Click Here)
Continuing the good news, CoSM's church status is officially recognized not only by the federal and state government (since 2008), but now also by the Town of Wappinger. A six year legal journey has ended with this satisfying confirmation and amicable settlement. Empowered to accomplish our mission, CoSM will long be a pilgrimage site for visionaries from around the world. More than ever, it is our heart-felt intention to be a powerful ally and asset in our beloved Town of Wappinger.
Cuddle Up with NEW Blankets
How surprised were we when 108 Theologue blankets sold from CoSM Shop overnight?! Can blankets build a temple? Indeed! "Wonder" and "Ocean of Love Bliss" blankets will soon be available. Thinking forward, we encourage all CoSMonauts to pre-order your blankets for Christmas. It takes 4-6 weeks for production and delivery. A big shout out to Scotty and Art Blankets for his perseverance and their awesome support in producing this deliciously useful new offering for CoSM.
These cozy blankets are 100% cotton, measure 5' 9" x 4' 5" and are produced by the organization, Artists Supporting Farms and Families - Always Grown & Woven in the USA!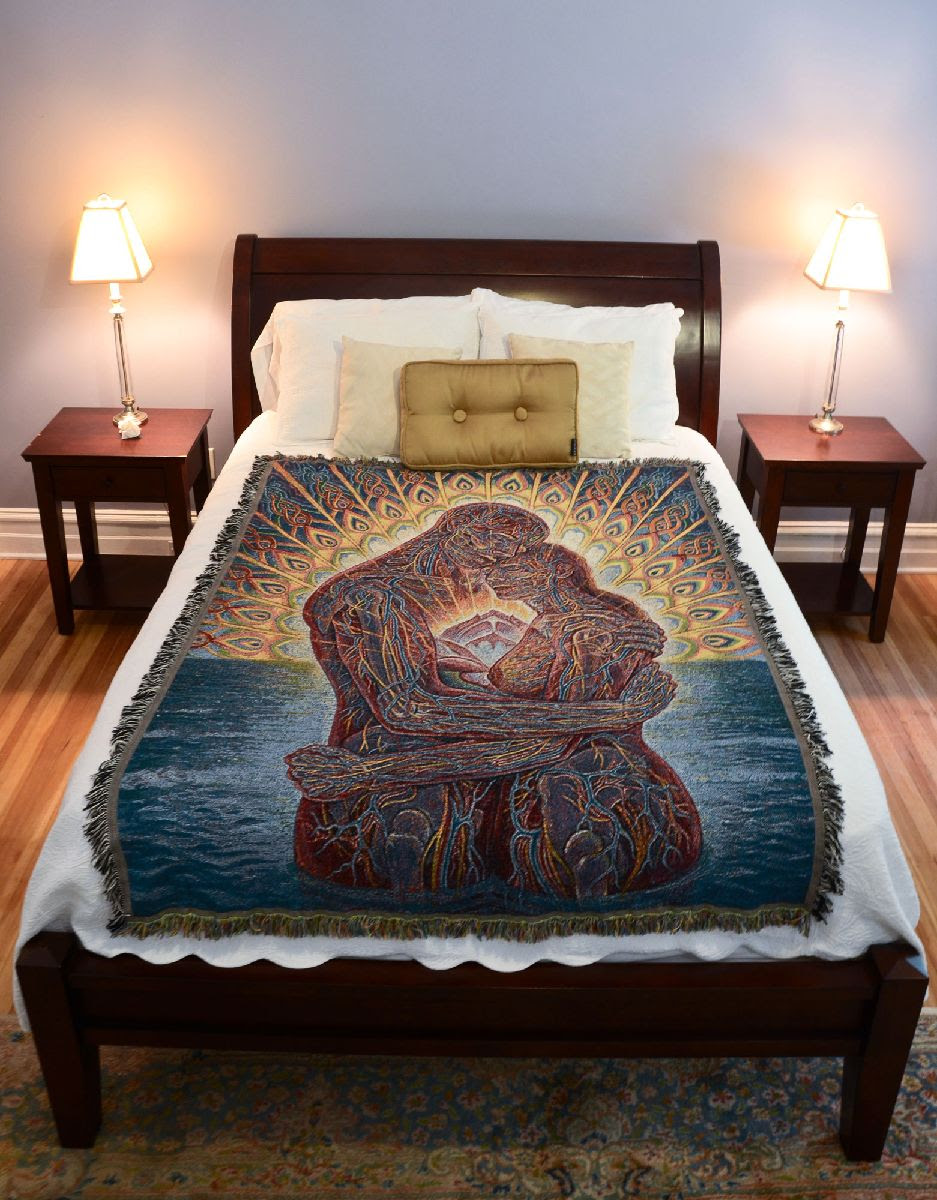 Chris Dyer Muraling & Teaching at CoSM
Chris Dyer is a Peruvian artist residing in Montreal whose soul resonates with Street Art, Visionary Art and Skateboard Art. Skateboarding since age 7, Chris creates and curates for many skateboard brands, (especially Creation Skateboards) and is considered among the most renowned in the genre.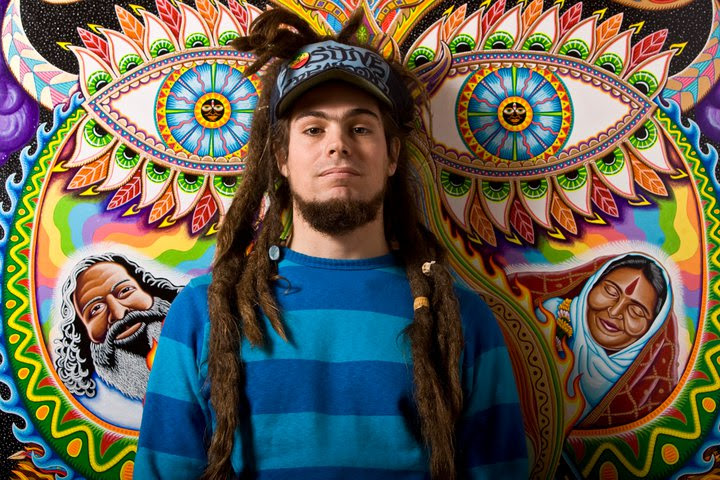 Skate Graphics Workshop

This week, CoSM hosts Chris Dyer's special 2-day workshop starting with a short history of skateboard art. Chris will reveal his personal painting process which began by transforming broken decks into prized works of Skate Art. Studenta are encouraged to bring an old skateboard or found wood for metamorphosis. Join the class even without a board and CoSM will supply.
Take home a masterpiece, have a blast jamming with Chris and while you're here, check out Chris' additions to The Mushroom Cafe mural project.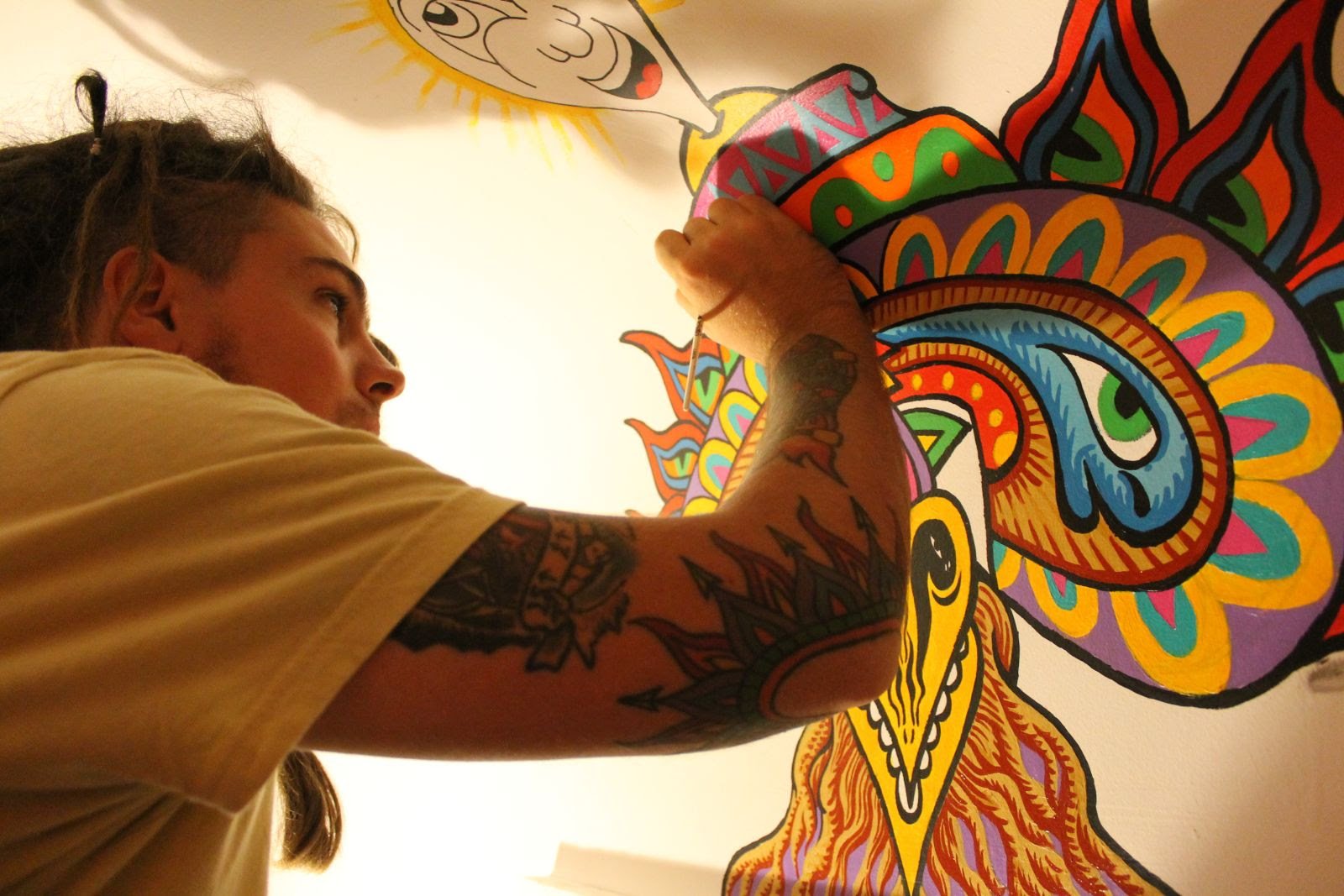 Chris painting today in the Mushroom Cafe
Full Moon Workshop: Becoming Legendary

At the Pre-Full Moon Workshop at CoSM this Saturday (3-6pm) Luba Sarawati Evans-Zion, a visionary lecturer, tantra teacher and special friend of CoSM, will lead a workshop she calls, "Becoming Legendary." The word legendary implies a story handed down for generations. What is your story? Luba tells us that her workshop will focus on enhancing our prosperity consciousness, fully activating our life's purpose, and manifesting our legacy. Luba promises to share her vision of personal growth, liberation, the sacred union of feminine and masculine, a connection to source and a life of service.
(Click Here for event info and to Register)
Art Church: The Mission of Art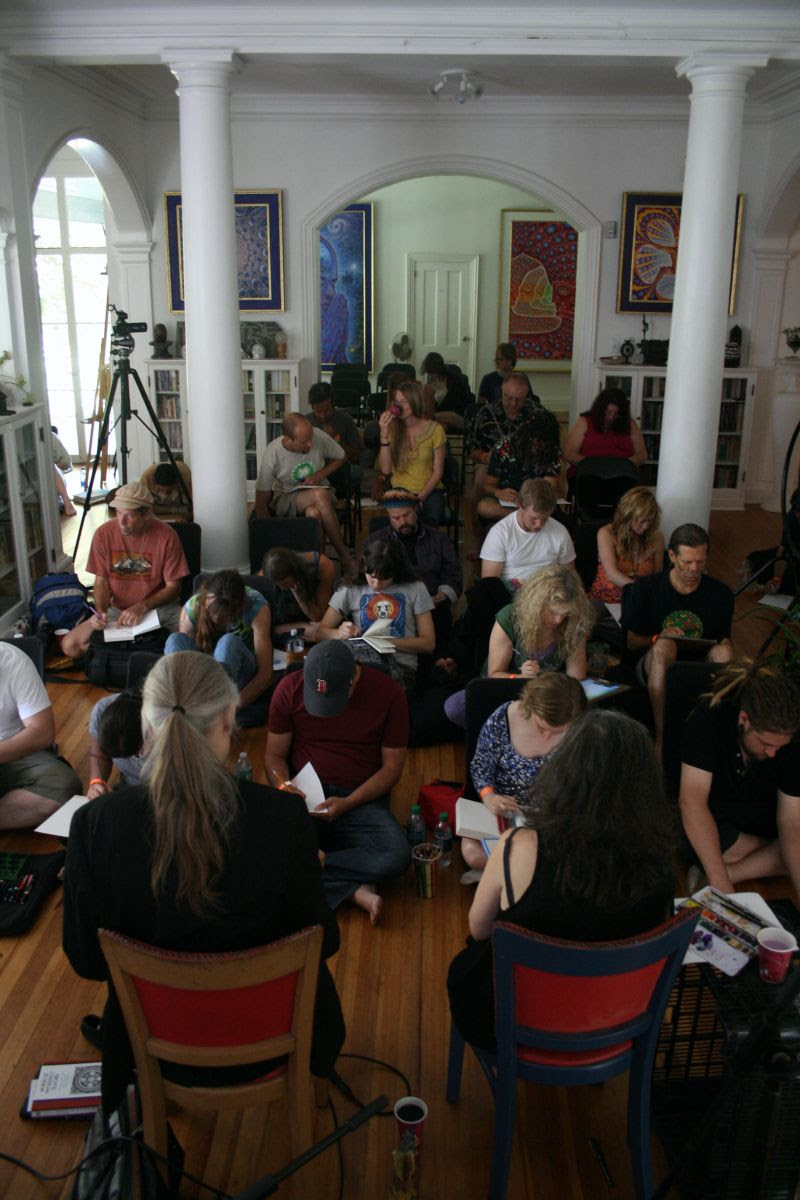 At this
Sunday's Art Church
, Alex and Allyson will discuss the highlights of Alex's inspirational treatise on art's power to bring about personal catharsis and spiritual awakening. Alex Grey's reflections combine art history and first-hand experiences in creating art about the subject of consciousness. Topics this Sunday will include techniques for exploring the deeper purpose of artistic expression and address how art can be a spiritual practice.
The Art Church program includes drawing (journaling also welcome). Bring a sketchbook and colors.
What folks say about the book, The Mission of Art by Alex Grey:
"Alex Grey's mission is nothing less than the transformation of our 'depleted world' through art that supports the evolution of human consciousness. He discusses the lives and work of artists throughout history, and his own journey, as examples of the higher mission of art, and encourages others to break out of the prevailing mood of irony and cynicism and create work with the heart and spirit."— Yoga Journal
"An inspirational text for artists and for everyone else who has ever had a glimpse of art's power for personal catharsis and spiritual awakening."— Branches of Light
The Mission of Art is available at CoSM Shop in soft cover and audio download, read by the artist.
(Click Here)
Love,
Alex and Allyson
NEW ART BLANKETS AVAILABLE NOW IN THE COSM SHOP