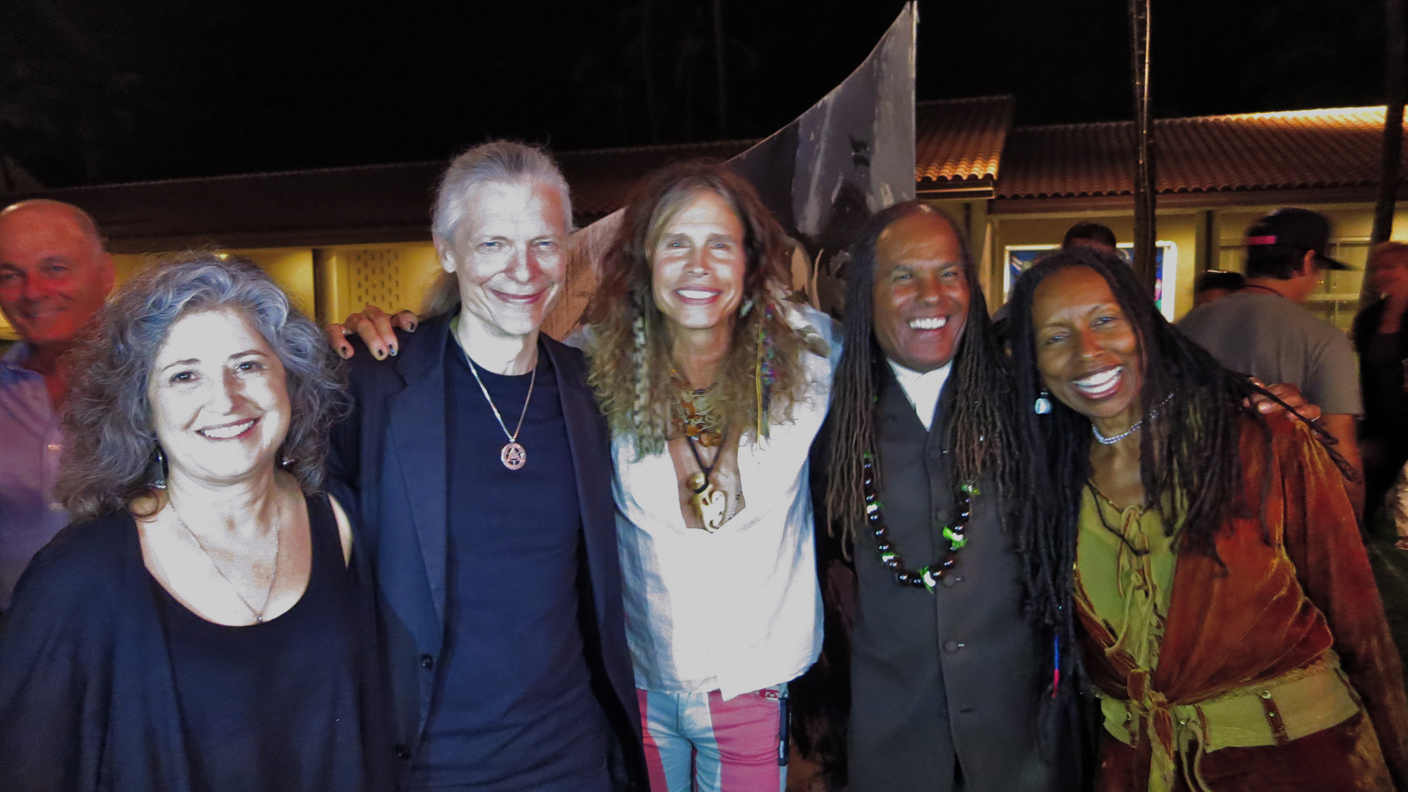 1/16/2013 - Alex delivered an exquisite TEDx talk in Maui entitled "How Art Evolves Consciousness." Look forward to sharing the talk with you the moment it is released by TEDx Maui. Here we are after the TED talk hanging out with Steven Tyler (Aerosmith) and with Reverend Michael Beckwith (
The Secret
) and Rickie Byars Beckwith, both of Agape International Spiritual Center in L.A.  There were several island specific talks that made us think about the ecology of our water system at CoSM. We made several friends who are leading the way to energy solutions for the future.  The Beckwith's uplifted all hearts with song and inspiration!  TEDx Maui was beautifully produced and blew everyone's hearts and minds open with hope and vision!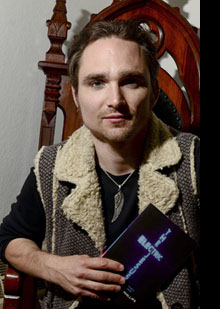 Our dear friend, Jonathan TALAT Phillips will lead CoSM's upcoming pre-Full Moon workshop entitled "Warrior Healing." We bonded with Jonathan after he shared the transformative experience he had upon witnessing Alex's painting Cosmic Christ when it was on display in the Chapel of Sacred Mirrors in Manhattan. He elucidated this episode in detail in his recently released book,
The Electric Jesus
. Together with his comrade, Daniel Pinchbeck, Jonathan co-founded 
Reality Sandwich and evolver.net. Reality Sandwich
 is a web magazine covering the transformation beat, and
evolver.net
is their social media platform including the Evolver Spores, communities of thinkers in fifty cities. Reality Sandwich and
evolver.net
particularly love the subjects of alternative lifestyles and realities, alternative energy and healing, new media,  new economies and the perils of new technologies. For the past four years, Reality Sandwich along with Souldish have produced the Ayahuasca Monologues, an invitational storytelling of ten minute personal experiences of the journey.

Along with all that, TALAT is a Reiki Master and loves nothing more that to show others their own power to heal. With no previous training ourselves around hands on healing, we both took a class with fifty or so friends at Boulder Ranch in the middle of the Utah desert last year led by TALAT.  Here's our recommendation: Sign up for the entire full moon voyage starting with an energy medicine intensive. Come and get your karma cleansed with TALAT.
Look forward to an upcoming collaboration between CoSM and Reality Sandwich that will be posted in CoSM's newsletter next week. Here's a hint: it is related to love and creativity.

Many groundhogs are hibernating in the New York snow this winter. Saturday, February 2nd is Groundhog Day and we want to honor the day by watching and discussing the only film ever to celebrate this national holiday, one of our favorite films of all times. The film addresses how difficult it is to evolve. What if a strange reality loop allowed us to see ourselves and face what it would take to become a better, happier person?  A sequence of breakthroughs reveal deep vulnerability and call forth so many emotional responses to life until our hero finally moves toward the transcendent benevolence of his highest calling. Come out of hibernation this Groundhog Day Saturday night and join us to watch and chat about this classic tale of moral refinement and transformation. Popcorn provided. Music and merriment will follow until mid-night.
Meanwhile, on Dr. Albert Hofmann's birthday, Jan. 11th, the State Attorney General of New York approved CoSM's construction loan to build Entheon, after two years of working and waiting, the final piece of the puzzle. May the building commence. A divine hand is moving us forward.
Love,
Alex and Allyson