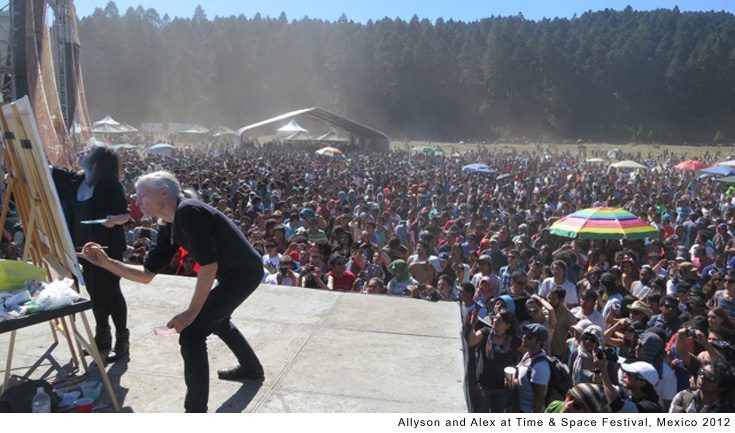 1/31/2013 - Here's an interview we just completed for the Gem & Jam Show in Tucson, Arizona, opening next week. CoSM will have a booth and we will lead the Body & Soul Drawing Ritual and paint live on stage with terrific DJ's including our friends Nit Grit and Random Rab and two of our favorite visionary artists, Oliver Vernon and Damon Soule.
1. With the current of music, art, and dance culture growing throughout the world, what vision and/or hope do you see for the immediate and distant future?
Visionary culture shows a deepening interest in the wisdom of nature through permaculture study and the holding of festivals and sacred ceremonies in places of great natural beauty on celestially auspicious occasions like the Full Moon, the Equinox, Solstice or a solar eclipse. Aligning ourselves with natural forces, much like uplifting psychedelics, move people toward a positive mystical interpretation of reality. Many great musicians, artists and creators have openly claimed their inspiration from journeys to mystic dimensions. That trend is increasing in all creative arts toward consciousness expansion and exploring the technological edge for new sounds and new visions, and new ways of remixing old sounds and visions, inventing a new collaborative artforms.  The spirit of collaboration distinguishes visionary cultural gatherings. As our global tribe evolves, the ceremonial importance of music and all the creative arts is empowering spiritual renewal.
2. Do you receive a different charge when doing art at a concert or festival than at home or in the studio?
Yes. It's natural for more contemplative work to come through in the studio where the setting is more tranquil and isolated. There is an intensity that the stage and an audience stimulate.
Allyson and I have been enjoying collaborating on stage. It is a new body of work for us. Since 2005, We have been painting side by side on stages all over the world. We'VE collaborated on a few pieces over the years but in this collaborative series we attempt to develop a blended style. We will, of course, continue to paint our own individual work, as well. We'll be painting side-by-side live at the Gem and Jam Show, continuing the body of live-painting works that we have been developing since 2006.
3. Do you feel that charge comes from the energy of a large community that gathers in collective dance and music?
Yes. It's a thick broth of psychic, spiritual, sensual vibrations.
4. Do you see yourself as an ambassador of an open artistic expression and/or a purveyor of an unconventional view of reality? 
Indubitably. God is the divine artist, and cosmos the evolving masterwork of creation.
5. There is a lot of talk about our species being at a point of change. Do you see this as the case and what do you see the human race changing from and into what?
Our species is at a critical point regarding climate change and environmental devastation.  It is crucial that we wake up to these matters, invent and implement better fuel technologies and attune to the sacredness of the gift of life.  We are participating in a great alchemical experiment -- planet earth. It is a miracle that evolution brought us to this point of higher consciousness and conscience. Humanity is maturing as a species and during our lifetime can take the steps necessary toward a more sustainable relationship with nature. That is the hope of the worldwide Love Tribe.
6. Do you have a favorite artist, song, or genre of music?
We love electronic music and mostly listen to chill music like Carbon Based Life Forms when we're painting or working in the studio. It creates a magical throbbing undertow. Shpongle is one of our all-time favorite musicians along with Tool, Tipper, Ott, Moby, Crystal Method, Phillip Glass, John Frusciante, especially classical, Bach, Beethoven, Schubert, Mozart, songs of every era and every culture. There is so much good music.
7. How do you use Music? For inspiration, entertainment, emotional adjusting, Medicinally, for connectivity to others and or the universe.
All of the above. Music touches places no other art form can. Music is integral to our spiritual practice of making art. There is music in the studio all the time.
8. A few words of wisdom, or idea you'd like expressed.
Creation is redemption. Causing your soul to act through your creations focuses our being to become transparent to the transcendent while grounding our actions in disciplined craft. This literally brings heaven to earth, the visionary experience shaped into visionary art.
9. Some singer songwriters have shared their experience that lyrics and melodies did not come from them but was channeled through them. Do you find this true of your own work?
When the work is good, it came through a higher power. Uniting with your subject, the artwork is proof of where you've been.
10. What visionary artists would you like our community to be aware of and have a deeper look into?
We've had some wonderful visionary artists contributing artwork to CoSM and collaborating on muraling the mushroom cafe. Kate Raudenbush,  Amanda Sage, Randall Roberts, Mars 1, Guy Aitchison, Michele Wortman, James Kearn,  Adam Scott Miller, Michael Divine, Oliver Vernon, Damon Soule, Sukhi Barber, Dave DiGiacomo, Grant Standard,  Sebastion Wahl, Nature Hogan, Joness Jones and many others have contributed masterful works to beautify CoSM.  Our CoSM Journal has profiled many of the international visionary artists.   Visionary mystical experiences are humanity's most direct contact with God and are the creative source of all sacred art and wisdom traditions. The best currently existing technology for sharing the mystic imaginal realms is a well-crafted artistic rendering by an eye witness. This is why Visionary Art matters.