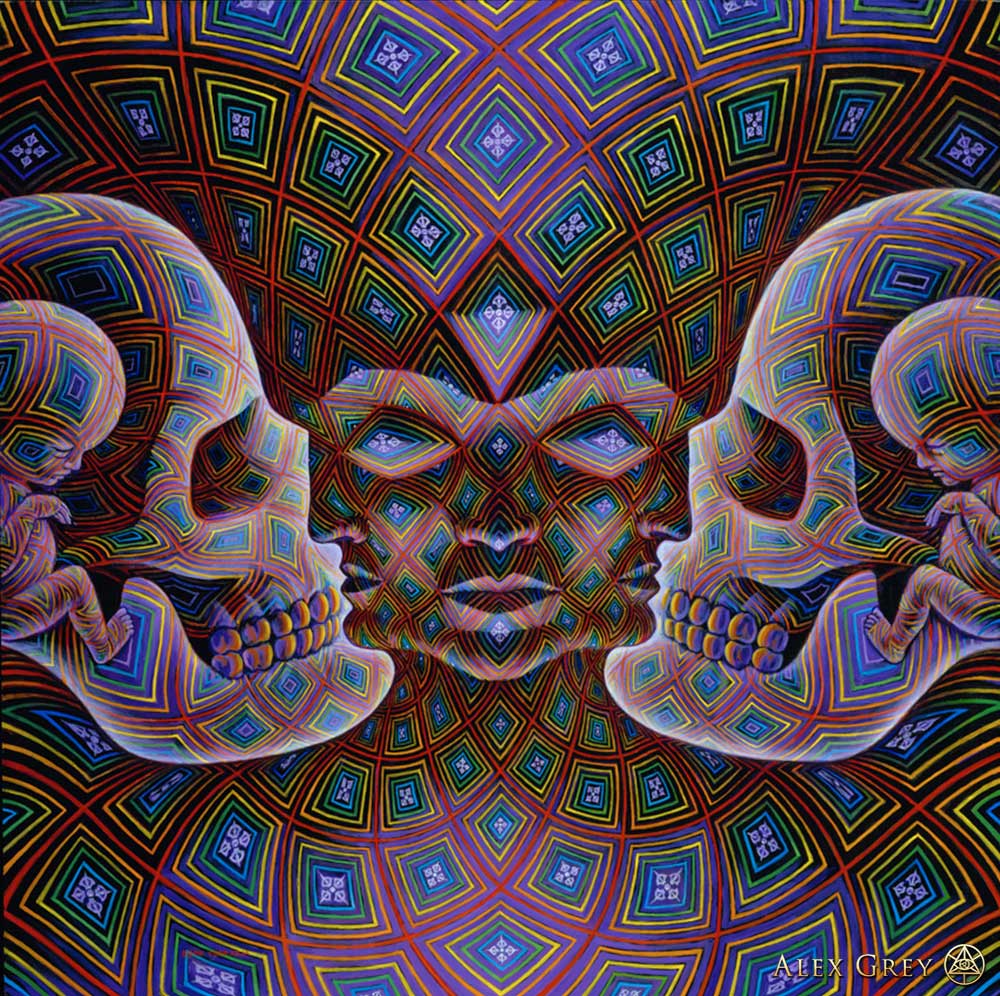 "Vajra Being" painting by, Alex Grey, 2005.
Thursday, Final Day for
Visionary Painting Applications!



2018 Visionary Painting Intensive
with Alex Grey & Allyson Grey
July 15th - 22nd
Join us for the Visionary Painting Intensive at CoSM.
This workshop offers an immersive program to serious painters
at every level of experience.
PORTFOLIO REVIEW
The 2018 7-Day Painting Intensive
Application Pre-requisites:
— A high level of commitment
— Experience as a painter
To apply for one of eighteen spaces in this summer's Intensive:
—  fill out the application below.
— attach no more than 3 images (jpg)
CLICK HERE to Apply for the 2018 Painting Intensive
Saturday @ CoSM
2018 Vernal Equinox Celestial Celebration
hosted by Alex & Allyson
with music by CharlesTheFirst, Living Light, & Wax Future
Saturday, March 17th, 2018
The Vernal equinox is a mysterious time of balance between day and night, symbolizing a stage of inner preparation
as the Northern Hemisphere tilts forward initiating spring and the return of the light.
Photo by, Johnathan M.
Celebrate with Alex & Allyson this special celestial evening program.
The Vernal Equinox journey begins with a presentation & discussion honoring the return of spring.
7pm in the Library.
Photo by, Johnathan M.
Dance, live music, fire circle, blazing performances, interactive art-making.
Live painters: Alex & Allyson, Axiom Evan, Eileen "Rosie" Rose, Katy McManus,
John Shook, Seth Leibowitz, Nicole Palapoli
Musical stars: CharlestheFirst, Potions, Supertask, Living Light & Wax Future
Body Painting by Jamie Gaviola
Featured painter, Eileen "Rosie" Rose.
Stay warm by CoSM's fire circle with live fire performances.
CoSM Shop blooms with artful treasures.
Homemade snacks & meals in The Mushroom Cafe & Tea Tent.
A Celestial Event Night to Remember!
Tickets limited & going fast.
Secure yours now.
Photo by, Johnathan M.
Sunday @ CoSM:
Morning Yoga
with Emily Rose
10 am - noon
Morning Yoga with Emily Rose, an Ultimate Out-of-Body Experience.
Emily gently guides yogis & yoginis toward their body's own potential.
A rejuvenating journey to deepen any asana practice.
All levels of experience comfortably nurtured and challenged.
Yoga begins at 10am. $10 donation requested. Mats available.
SAVE THE DATE!
5-Day Visionary Art Intensive @ Omega Institute
Sunday, June 24th - 29th
Visionary artists, Alex Grey & Allyson Grey teach painting & drawing
from the wellspring of divine imagination.
Artists at any level of ability & experience create from the sacred ground and the mystic eye.
Through illustrated talks, vision practices, and group interaction, we empower the process of bringing our heart's iconography to outer form and examine the worldwide visionary art movement.
Using guided imagery, meditation, shamanic ascent, and live model chakra drawings of body and soul, we open the doors of the imagination to the theater of revelation.
Utilizing basic materials - graphite, colored pencils, pastels, watercolors, acrylics...
we commit mental pictures to paper and discuss the aesthetic dimension of our mystical experiences. Explore art as a spiritual path and art as a career, address technical concerns, and define your creative goals.
CLICK HERE FOR MORE INFO AND REGISTRATION
.


Love,