Visionary Permaculture
Pre-Full Moon Workshop - Saturday



Community is the ocean in which we swim. We are all products of associations that have shaped the development of our interactions, our ways of thinking and being. Evolution is inter-subjective, through communing we share our values and inner worldviews and discover better ways of being. Communities shaped by higher consciousness and conscience are vital keys to a sustainable relationship with the planetary lifeweb. 


- Alex Grey & Allyson Grey, artists, Co-Founders of CoSM
The planetary ecology of our civilization is on the cusp of crisis, in transition and ripe with possibilities for positive change. How can we, individually and as a community, be part of the solution?
From the design principles of nature, the worlds indigenous traditions and from modern scientific understandings, Permaculture principles teach us how to live harmoniously with the land and each other.
-- The design ecology of soil, water, trees, animals and climate,
-- Regenerating human habitats in temperate, tropical and dry land environments,
-- Patterns of sun and shade,
-- Movement of wind and water across the landscape,
-- Medicinal plants and herbs
-- Bees: their importance, care and tending
-- The magic of mushrooms
… These are some of observations of a Permaculturalist.
Join Delvin Solkinson for a three-hour introductory journey toward compassionate Earth stewardship and conscious planetary citizenship through Visionary Permaculture Design. Delvin, a CoSM Board Member and managing editor of CoSM Journal, teaches the four-season Visionary Permaculture Design Certificate Course at CoSM. The co-originators of Permaculture, the elders who offer advanced teacher trainings, have granted certificates, accreditations, diplomas and a Masters Degree to Delvin for his extensive learning and proven ability in this early, radically honoring realm, an enlightened perspective on earth stewardship through observation.
The biggest limit to abundance is lack of creativity " and "permaculture gives us a toolkit for moving from a culture of fear and scarcity, to one of love and abundance.
-- Toby Hemenway, Permaculture Design Teacher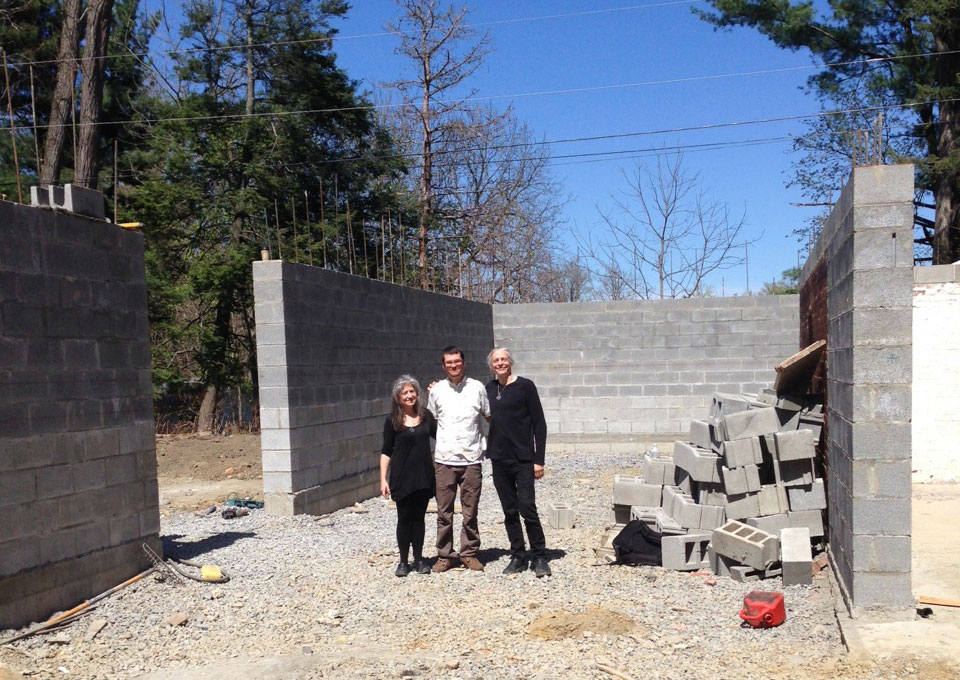 Delvin Solkinson with Allyson Grey & Alex Grey in the rising walls of Entheon's Narthex Gallery, April 29, 2015
Learn about
Entheon (Click Here)
The History of Visionary Art -- Art Church Sunday

An emerging worldwide Visionary Art Movement is sweeping the internet and festival culture, bringing forth contemporary translations of the Divine Imagination. For many postmodern psychonauts, this genre is increasingly relevant because when one's consciousness expands and new dimensions are seen, there is a frustrating desire to communicate this virtually ineffable realm. Visionary art encourages the development of our intuitive inner "eye of the soul." The visionary realm embraces the entire spectrum of imaginal spaces, from heaven to hell, from the infinitude of forms to formless voids. The visionary realm is the symbolic soul saturated spaces we visit during dreams and altered or heightened states of awareness. An artist's mission is to make the soul perceptible.
Visionary mystical experiences are humanity's most direct contact with God and are the creative source of all sacred art and wisdom traditions. The best currently existing technology for sharing the mystic imaginal realms is a well-crafted artistic rendering by an eye witness. Since mystic visionary artists paint the transcendental realms from observation, their work offers a growing body of evidence substantiating the divine imaginal realms and by extension, Spirit itself.
-- Alex Grey
By projecting forms which are crystallized visions of spiritual illumination, Mystic Visionary Art helps engineer higher mind states in the viewer. Relevant Sacred Art renews the subtle light body surrounding and interpenetrating our physical body. Our subtle body is purified, uplifted and healed by visualizing deities and ideal forms.  Presence of Ultimate Reality absorbed through Mystic Art helps magnetize the viewer toward their own spiritual template and Supreme Identity.
For eons, artists have created images and temples born from their mystic visions. Traces have been left in sacred art the world over; prehistoric human animal hybrids on cave walls, throughout Egypt and Greece, in cathedrals throughout Europe, in Buddhist stupas and Hindu temples. Places of divine remembrance are endowed with imagery passed through a specific cultural lens. Unique in spiritual history, we now have access to a spectrum of wisdom traditions, connected in the shared truth of love and higher intelligence that founded the universe. Visionary art allows us to see the cosmos, ourselves and others as a reflection of the divine.
Bring a sketchbook and colors to Art Church this Sunday with Alex and Allyson and "See Deeply" into the ancient and contemporary history of Visionary Art.
MAY FULL MOON GATHERING
Be sure to join us this weekend for a for a special full moon welcoming in Spring with our friend & Electronic wizard, Andreilien, along with AtYya and kLL sMTH. We will also be joined by many talented community members, including an intereactive sand mandala art project, live painters, fire spinners, hoopers,  visual projections, body painting, henna, a bonfire, and much more.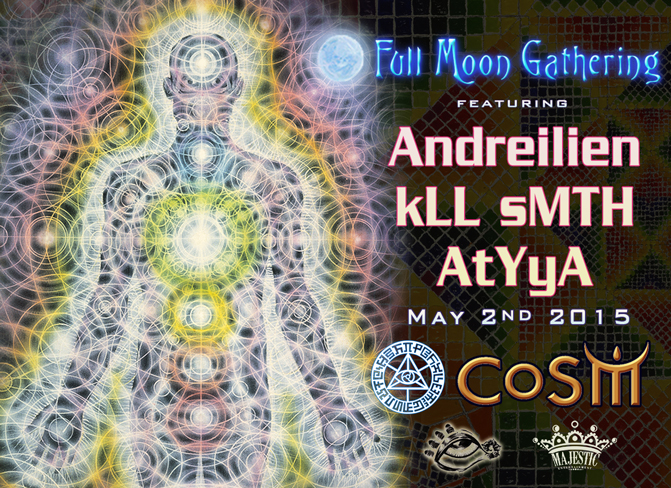 Hope to see you soon at the Full Moon or Art Church!
Love,
Alex and Allyson