Still pretty cold and wet around here in the Hudson Valley but warmer days are on the way and and it is time now to consider in which art workshop you would like to immerse yourself with us this summer.  Making Visionary Art honors your own inner worlds by recording your highest moments.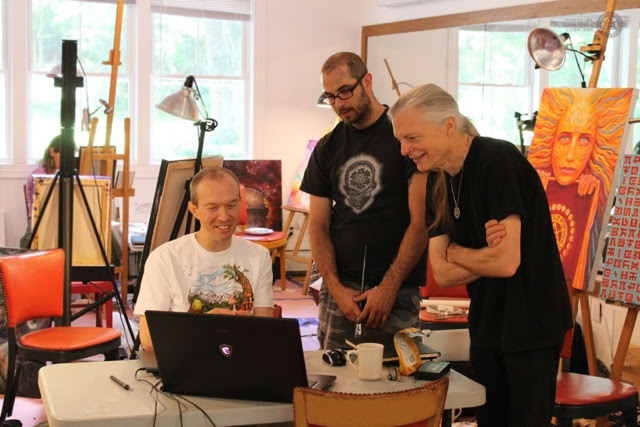 July 10th-16th  The Visionary Painting Intensive is held at CoSM for painters who would like a creative context for evolving their work. A painter with a grasp of their materials, who has started and completed paintings and would like feedback and direction in their work would be ideal for this workshop. During this week-long workshop we ask that all participants be prepared to begin two new paintings that could be well-planned in advance -- a self-portrait and an imaginally based work of your choice. Each day will start with a talk addressing some aspect of two-dimensional art including: Design & Composition; Color, Light, Feeling, Expression; History of Visionary Painting; the Figure (with models); Portraying Nature and more.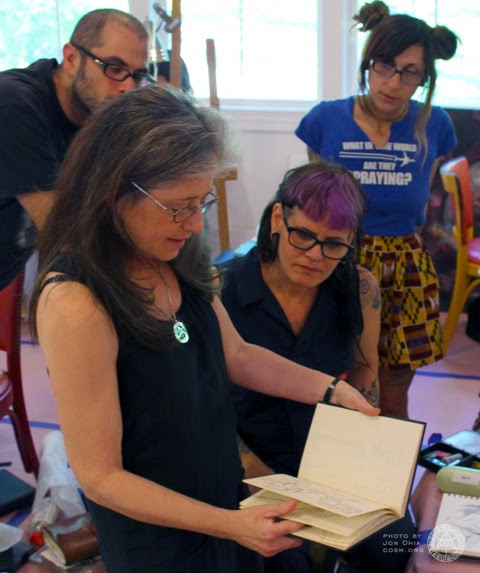 We would like to see three (or four) of your best works and read a brief artist statement (say 150-500 words max). It is an asset for an artist to be articulate about their work and there are opportunities within the Visionary Painting Intensive to practice your presentation. Each member of the Painting Intensive offers a 15 minute presentation of their artwork, with or without narration. The presentation can be a music video or animation. Most students offer a power point of their best paintings. Creativity in your presentation is naturally encouraged. Calling all painters! Join us this summer for a delicious immersion into your passion for painting.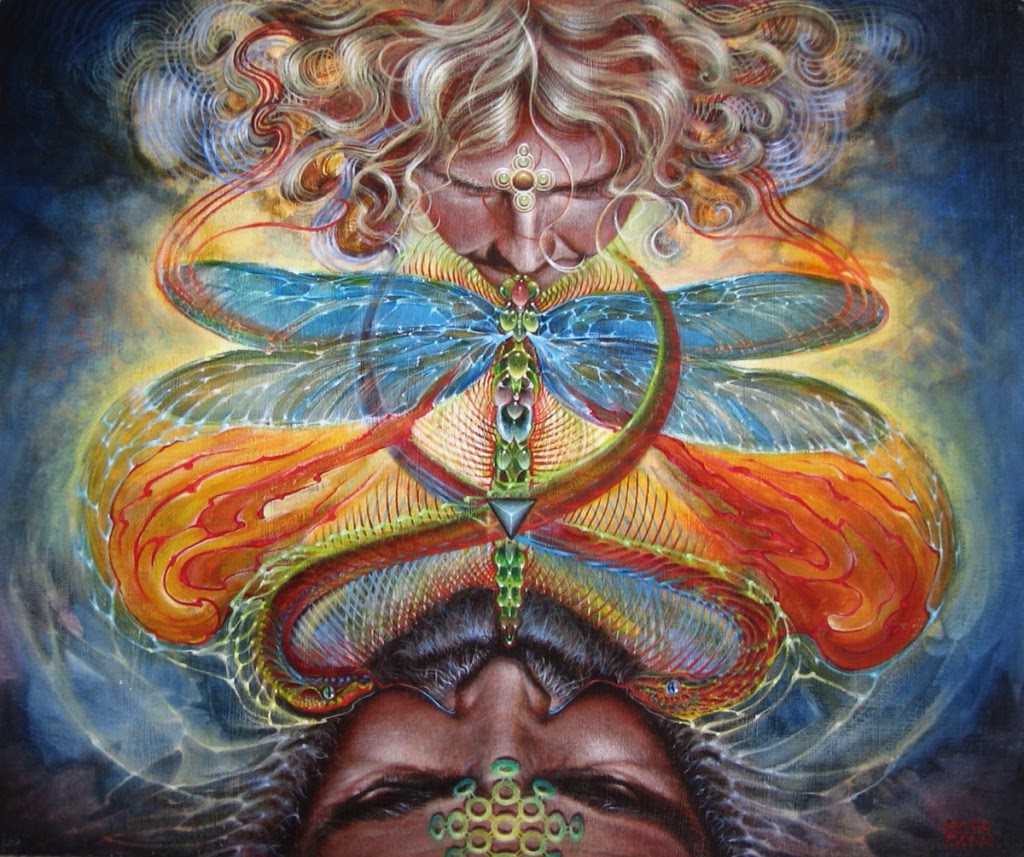 "Trance Mission" by Martina Hoffmann
Joining us for this July's Painting Intensive will be Guest Artist, Martina Hoffmann!!  Martina is one of the world's greatest living visionary painters, bringing inner worlds of luminous energies and inter-dimensional beings to fully rendered exquisiteness.  We are so grateful she will be available to share her painterly wisdom. She will be working on a piece in the workshop and give a special public presentation on her work at a Visionary Salon.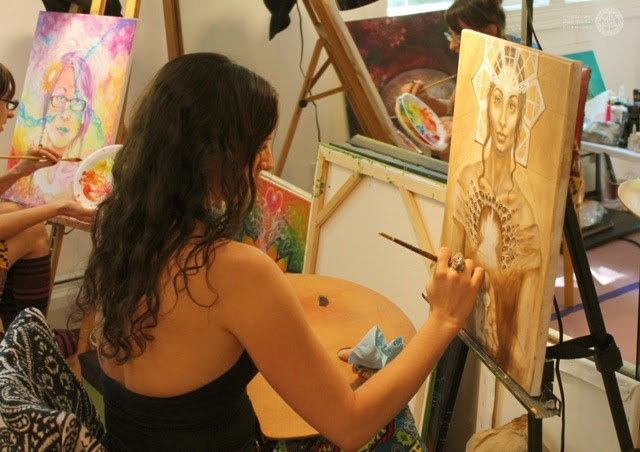 To be considered for one of fifteen openings in our annual Visionary Painting Intensive, fill out the application fully including pictures and artist statement. Painting Intensive graduates are welcome to sign-up and join us again without portfolio approval. Due to space limitations, fifteen maxes the class.  Portfolio & Application due March 15 --
Click here to apply
.
July 24th-29th The Visionary Art Intensive with Alex and Allyson at Omega Institute
welcomes artists at every level of ability. Since 1991, we have befriended so many artists on the delightful Omega campus where we indulge ourselves in visioning from the highest planes and bring back images as touchstones for significant works of Visionary Art.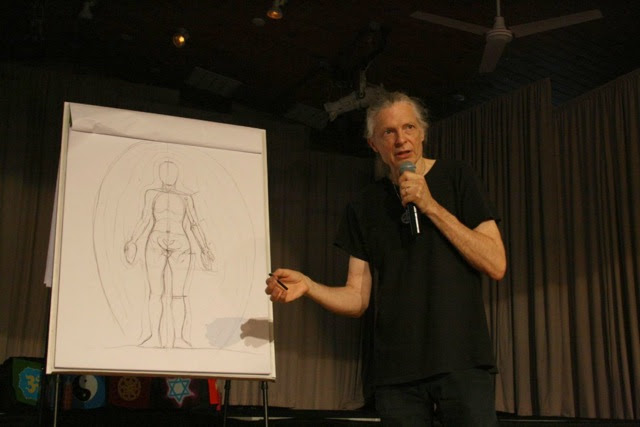 This
26th Annual Visionary Art Intensive at Omega Institute
will include:
•    illustrated talks on the worldwide visionary art movement,
•    vision practices using guided imagery to empower the process of bringing your heart's
•    iconography to outer form,
•    the Body & Soul chakra meditation,
•    shamanic journeying to bring back sacred visions,
•    offering up your version of "Five Minutes of Fame" (optional),
•    utilizing basic materials such as graphite, colored pencils, pastels, and watercolors, commit mental pictures to paper,
•    discuss the aesthetic dimension of our mystical experiences,
•    guidance on how to live the creative life you envision.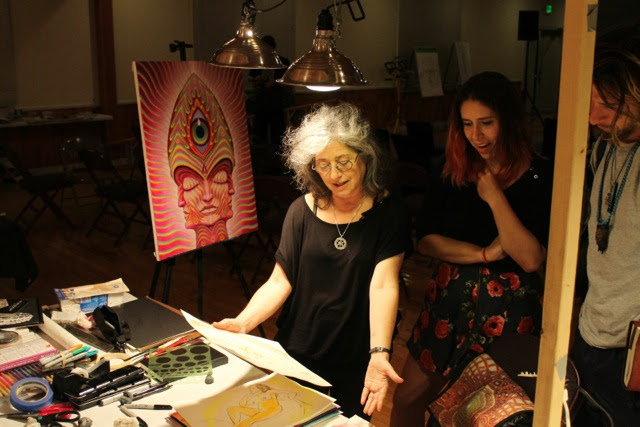 Explore art as a spiritual path and define your creative goals. Address technical concerns and examine art as right livelihood.
Re-enter the charged vortex that empowers us toward breakthroughs in our artwork. Stretch your imagination, and meet kindred souls as we draw and paint from the wellspring of our vision.
Sign up for the Visionary Art Intensive for five days dedicated to your creative life.
www.eomega.org
Photos by Jon Ohia