Click here to visit the official CoSM website
The Chapel of Sacred Mirrors,
CoSM
, is a sanctuary for seeing ourselves, the world, and our cosmos as reflections of the Divine. CoSM's mission is to build a temple to preserve and share a collection of visionary art beloved by a global community. Forty acres of beautiful woods and newly renovated buildings invite the contemplation of art and nature, and provide a center for events encouraging the creative spirit. CoSM honors the mystic core of love uniting all wisdom traditions and the transformative power of art to awaken human potential.
The Art
The heart of CoSM, the
Sacred Mirrors
, by Alex Grey, are a series of twenty-one artworks examining the body, mind and spirit in rich detail.  The Sacred Mirrors have been displayed throughout the world and the book
Sacred Mirrors: The Visionary Art of Alex Grey
, translated into nine languages, has sold well over 100,000 copies. The CoSM permanent collection, renowned for integrating both scientific and spiritual truths, includes more than fifty works of painting and sculpture by Alex Grey and Allyson Grey and a growing collection of contemporary sacred art.
With your financial support, a partial exhibition of the collection will open in 2012 and
Entheon
, now in the design and planning phase, is intended to open by 2016.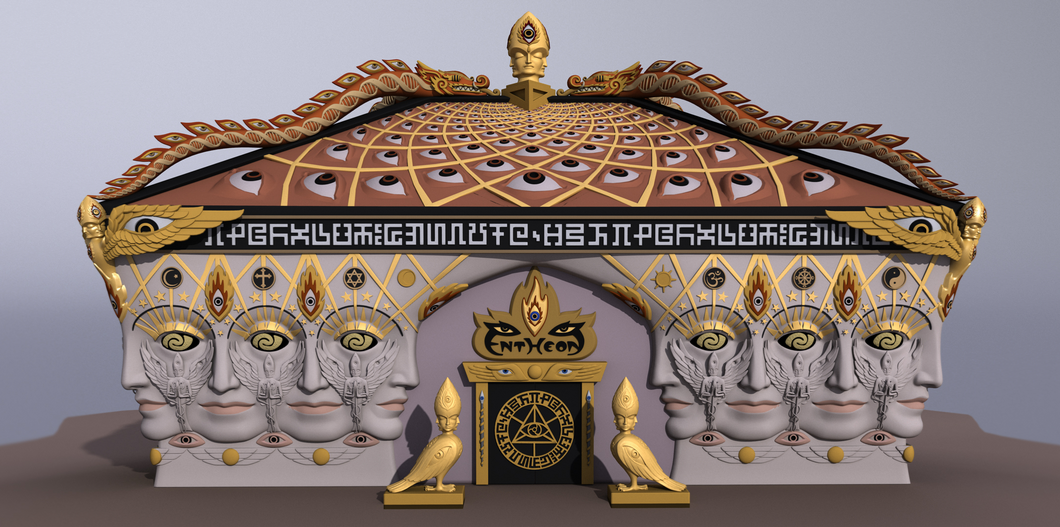 Paintings, sculpture and architectural details are created on and off site.  In a meadow, a magnificent 28-foot sculpture, "Altered State" by Kate Raudenbush,  offers a spiritual centerpiece for events and ceremonies.  Works of art by staff artists and volunteers include a labyrinth, a Wisdom Trail and a Sun Altar.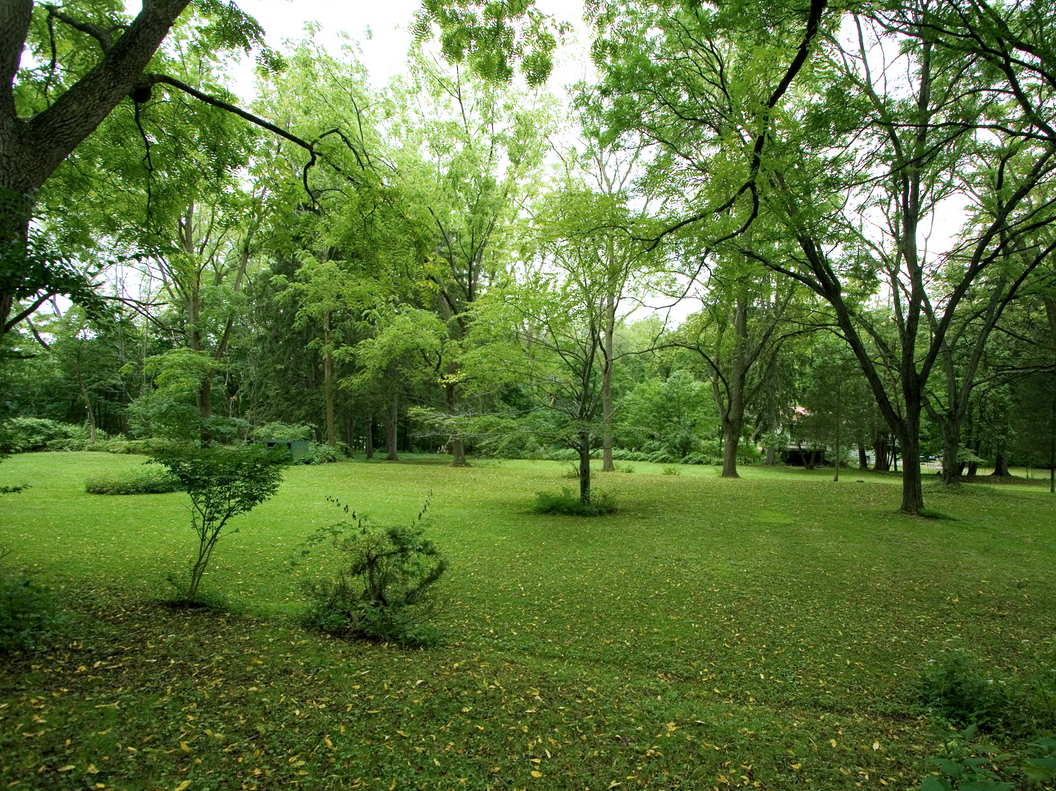 The Beginning
In 1986, Allyson and Alex Grey had a vision that the Sacred Mirrors, along with other works of visionary art, should be housed in a contemporary Chapel and made available to the public.  The Foundation for the Chapel of Sacred Mirrors Ltd. was formed in 1996 as a non-profit charity and began raising awareness and funds to open the Chapel.  In 2003, the Grey's began holding Full Moon prayer ceremonies in their Brooklyn home. What started as a circle of friends widened, and has become an ever-growing community.
With this support, the first CoSM opened in New York City on the autumnal equinox of 2004. Monthly interfaith celebrations were held on the New and Full Moons. As a center for visionary culture, CoSM presented workshops and lectures by leaders in the fields of art, science, and religion. The Entheocentric Salons—featuring live painting, world famous DJs, VJs, and dance performances, were inspiring celebrations of all the creative arts. For nearly five years in the heart of New York's gallery district, CoSM was home to Alex Grey's collection of mystic art, his acclaimed Sacred Mirrors, and the MicroCoSM gallery featuring exhibits by diverse contemporary sacred artists. A bare loft had been transformed into sacred space; and a community was formed to build the Temple.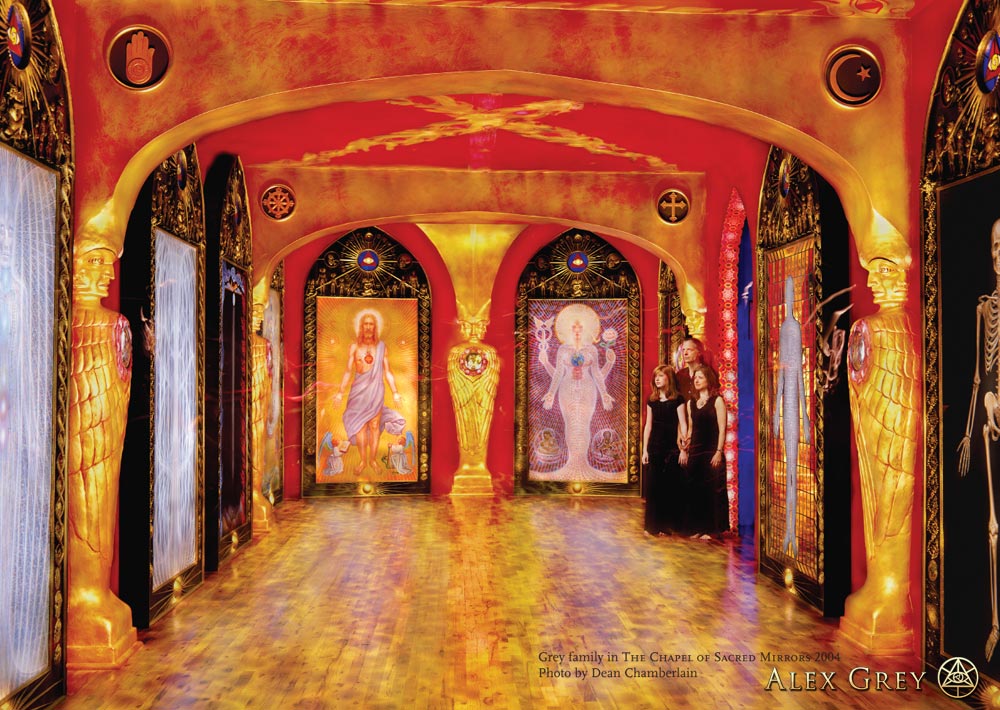 Chapel becomes a church
Building an enduring sanctuary of visionary art to inspire every pilgrim's creative path and embody the values of love and integral wisdom is the mission of the Foundation for the Chapel of Sacred Mirrors Ltd., a non-profit organization since 1996.  The greatest sacred spaces have been created by the world's religious communities.  Offering spiritual teachings, practices, regular worship and sacramental ceremonies, the Foundation sought and received official recognition as a religion in 2008.
The Present
In February 2009, CoSM moved to its permanent home in the town of Wappinger, New York, 65 miles north of New York City. This 40-acre retreat is walking distance from the New Hamburg Metro-North station. 
Directions
are available online.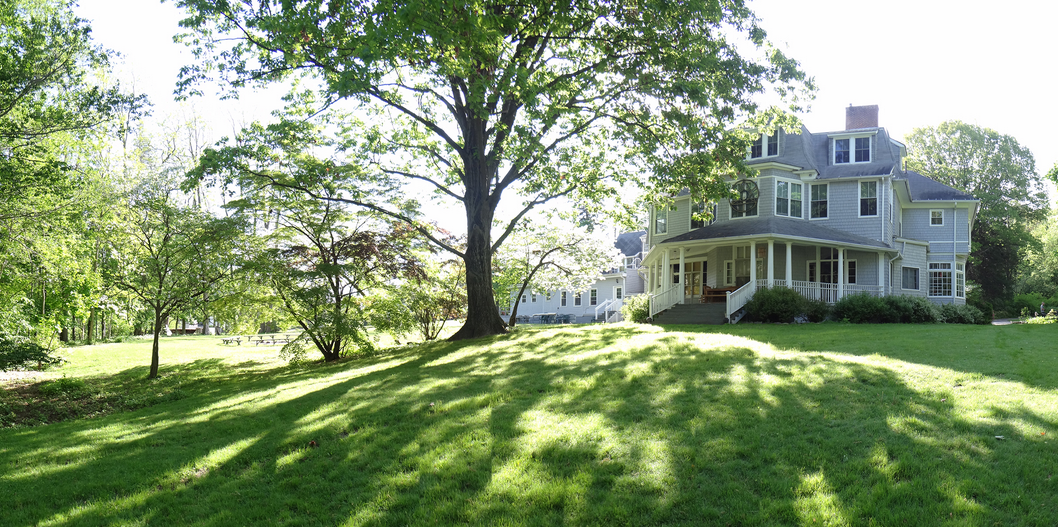 The Chapel of Sacred Mirrors offers full moon ceremonies, solstice and equinox celebrations, workshops and spiritual cultural offerings. Accomplished artists, musicians, dancers, authors, scientists and spiritual teachers share their talent and wisdom. An events calendar is available online.
The 10,000 square foot Guest House features a newly restored library with brilliant acoustics, lovely fireplaces, a commercial kitchen and dining hall, lodging and hospitality. There is also a gift shop and café.  The grounds have towering trees, spectacular foliage,  trails, reflecting pool, and sculptures.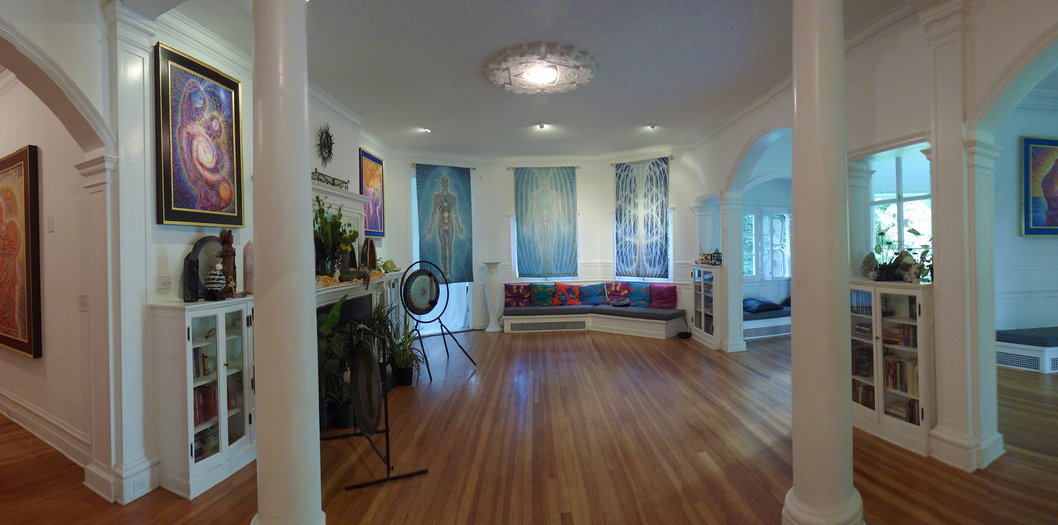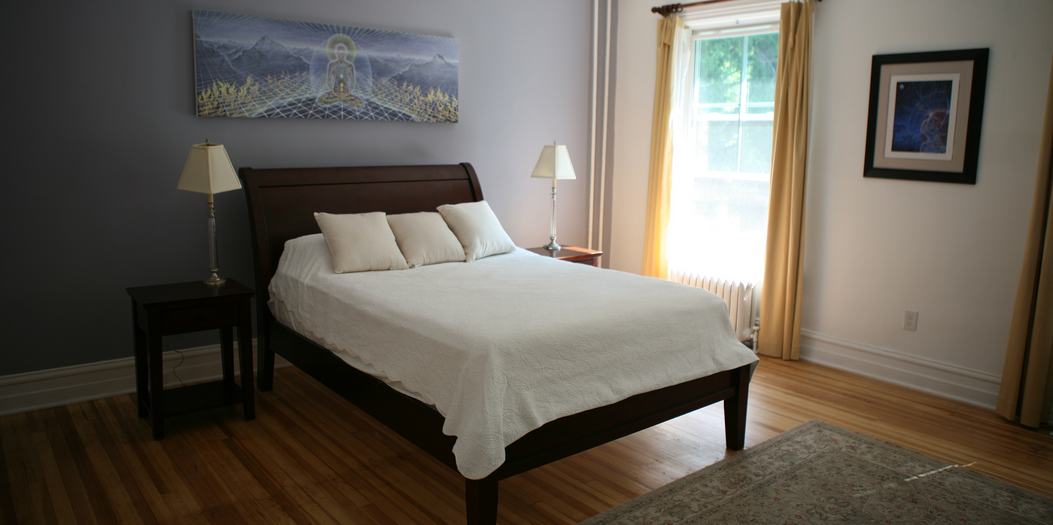 Visiting artists have blessed CoSM with labyrinths, gardens, and sculpture. Kate Raudenbush's Altered State two-story domed sculpture graces the meadow, a perfect setting for weddings and commitment ceremonies. The exhibition of Alex Grey's Sacred Mirrors collection is in storage as the exhibition hall and grounds undergo massive renovations.  Generous
contributions
facilitate progress during this crucial phase.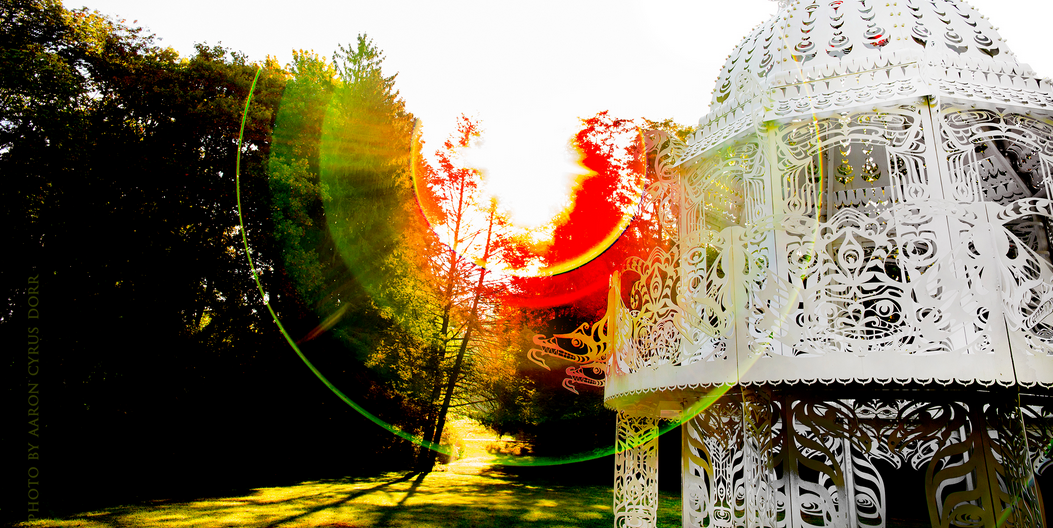 Over the coming years, CoSM plans to develop a Temple complex with sculptural stations weaving a mythic narrative of humanity's new relationship with Nature and Cosmos.
Creativity is our spiritual practice. Please,
co-create with us
.