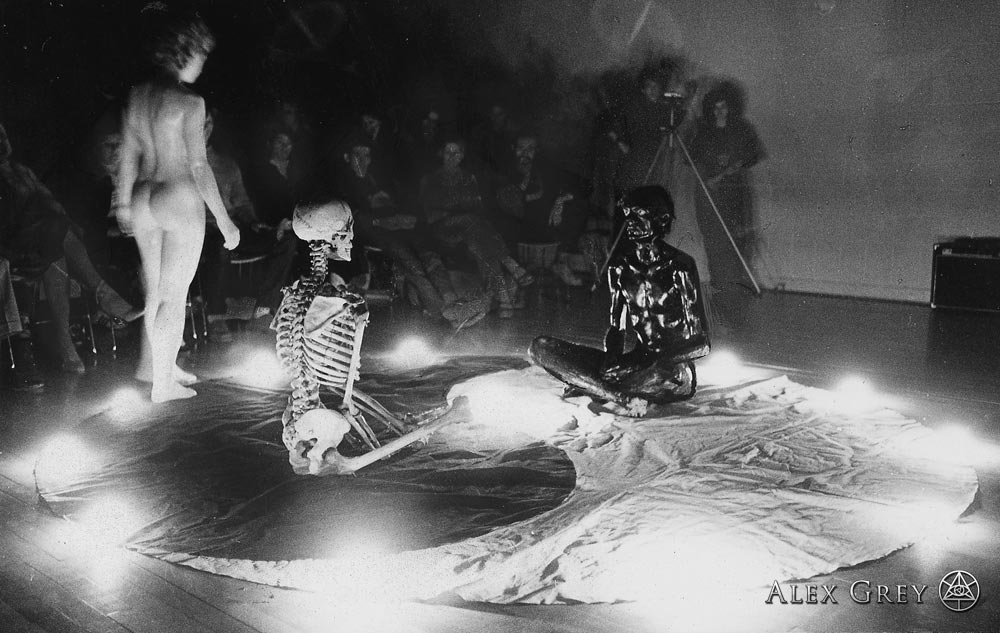 Meditations On Mortality
April 17, 1980 Sarah Lawrence College, Bronxville, New York

The performance began with the space in total darkness. A tape of the deep chanting of Tibetan monks played loudly. My wife Allyson, her body coated with white greasepaint, walked slowly into the space carrying a candle. I followed behind her, my body coated with black greasepaint. We entered the large Yin Yang symbol placed on the floor.

As I sat motionless fixing my attention on a skeleton seated opposite me, Allyson lit 12 candles placed like watch numbers around the rim of the symbol. Then, she placed her candle in the center of the symbol and continued walking slowly around the rim. The chanting continued and the candles melted and went out, leaving only the central flame.

Allyson and I met at the edge of the circle. A strobe light began flashing outside the circle. Standing under the light with horns and drums playing loudly, we frantically embraced and merged our pigments. When the chanting returned and the loud music ended, we went back to the circle and the strobe went off. We continued as before, with both of our bodies grey. Allyson walked into the center, picked up the central flame and walked out. I followed her. The space was again left in total darkness and the chanting ended.