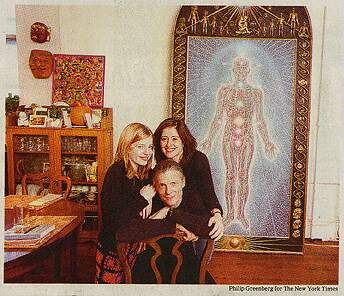 NEW YORK TIMES
January 3, 2002
AT HOME WITH ALEX AND ALLYSON GREY
PSYCHEDELIC PARENTHOOD
By JOHN LELAND
Alex and Allyson Grey, right, are raising their 13- year-old daughter, Zena, in a Park Slope loft dominated by his, "Psychic Energy System'' and other paintings inspired by hallucinogenic drugs and Eastern religion.
In the Brooklyn loft of Alex and Allyson Grey the other day, there was ambient music on the stereo and a pair of skeletons hanging from a wall, remnants of past performance art. A rope swing dangled from the ceiling.
Playing in the living room was the minuet of New York conversation, in which near strangers map out their circles of affinity.
The topics included:
1. Art.
2. Their daughter's private school.
3. LSD.
4. Real estate.
5. Money.
6. Mr. Grey's new book, "Transfigurations."
"It's going to take millions," Mr. Grey said, apropos of Topics 1, 4, 5 and, less directly, 3. But more on that later.
The Greys are painters, working in the psychedelic or "visionary" school, which blends the spiritual traditions of the East and the pharmacology of the West. Mr. Grey, 48, is rail-thin, with long salt-and-pepper hair pulled back in a ponytail, and speaks in the flat vowels of Ohio, where he was brought up. Ms. Grey, 49, is petite and more emphatic.
For the last 17 years, they have painted in the front room of their loft in Park Slope, creating elaborate, brightly colored canvases: his massive, anatomically detailed portraits of translucent bodies; her smaller kaleidoscopic grids, dotted with invented alphabets.
They are also parents, raising a daughter, Zena, 13, in a household that has been shaped by the adults' experiences with psychedelic drugs. Zena's own drawing table, covered with fashion-inflected collages, stands next to her mother's. An actress, Zena has papered her room with posters from movies she has appeared in, including "Snow Day" and "The Bone Collector."
Family conversation can veer from the anxiety of private school to the swirl of ecstatic vision. "We told Zena only what she's interested in knowing," Ms. Grey said of the drug experiences. "She's not ready, and I wouldn't be ready for her to try it."
The couple started dating in 1976, after sharing a bottle of Kahlua and LSD, and the drug has remained an important part of their lives and their art. Ms. Grey said they take LSD about twice a year, never around their daughter.
Mr. Grey also accompanies ecotourist groups to the Brazilian rain forest to consume a psychedelic plant called ayahuasca. He describes his role as facilitator, helping the others render their "beautiful or terrible experiences" on sketchbooks or pads.
The psychedelic life has called for some strategic parenting. For example, Zena is perhaps the only girl in her eighth-grade class who has met Albert Hoffman, the Swiss chemist who discovered LSD.
Ms. Grey described their methods as a mix of candor and discretion. "I basically told her that it's like the early Christians," Ms. Grey said. " `It's a secret society. It's part of our spiritual life. You don't talk to other people about it, you don't talk to your friends about it because it'll scare their parents. And you aren't ready to do it.'
"She says, `Do I have to do this, ever?' I say, `Absolutely not.' "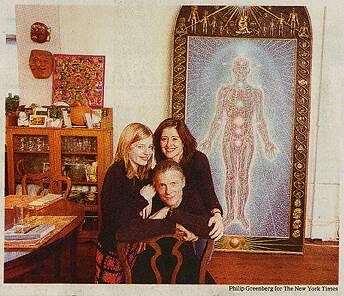 In the loft, Mr. Grey's paintings dominate the walls. The larger ones, some more than seven feet high, have sold for as much as $100,000. Mr. Grey's work has also appeared on album covers by the Beastie Boys, Nirvana and Tool.
In an area off the living room, the couple sell his posters, books and other merchandise on the Internet (www.alexgrey.com).
Now they are looking for a new home, not for themselves but for 21 of Mr. Grey's paintings called "The Sacred Mirrors," which they see as the basis for an ecumenical healing temple. The proposed Chapel of Sacred Mirrors links the worlds of alternative medicine, rave culture, psychedelic drugs and Eastern religion.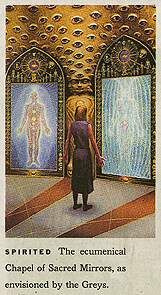 The Sacred mirrors, Mr. Grey explained, are supposed to allow viewers to see their spiritual selves.  The paintings progress from skeletons to full anatomy to figures of pure energy. By looking at them in series, Mr. Grey said, people can align their physical anatomy and "spiritual" anatomy. Their preliminary plan for the chapel is a twisted pyramid, to be designed by Keith Critchlow, an architect who specializes in sacred buildings. Hence Mr. Grey's need for "millions."
In 2000, the Greys formed a nonprofit organization to raise money for the Chapel of Sacred Mirrors, and set up an advisory board that could serve as a road map of post-hippie cultural highways. It includes the New Age guru Deepak Chopra; Ken Wilber, an East-meets-West philosopher whose work caught the attention of Bill Clinton; Jean Houston, the psychologist who helped Hillary Rodham Clinton tap her spiritual affinity for Eleanor Roosevelt; Matthew Fox, a radical theologian who devised, among other unorthodoxies, a techno-rave Mass; and Marcia Tucker, the founder of the New Museum of Contemporary Art in SoHo, one of the few museums to exhibit the Sacred Mirrors paintings.
Mr. Grey said they had raised $100,000 for the chapel, through fund-raising events and a Web site (www.sacredmirrors.org).   Several groups have volunteered locations, including one near San Diego and one in Taiwan, Ms. Grey said.   Mr. Grey's work, based on "visions" he receives, often during meditation or LSD trips, has not always been embraced by established art critics and galleries. "There was a long moment in the contemporary art arena when anything associated with the quote-unquote spiritual was suspect," said Ms. Tucker, on her way to a New Year's retreat in the San Francisco area.   "Right now people are once again turning to that aspect, which has always been there, seeing how much spirituality is intrinsic to the making and experiencing of art."
The Greys' work has found an audience outside the established art world. A 1990 book, "The Sacred Mirrors: The Visionary Art of Alex Grey," published by a small Vermont house called Inner Traditions International, has sold more than 65,000 copies, Mr. Grey said. His follow-up book, "Transfigurations," came out last fall.
In their loft, the Greys are trying to weave further connections between some of the various microcultures that make up alternative America. Ms. Grey was brought up Jewish; Mr. Grey, Methodist. Today they belong to a synagogue and a Buddhist community, attend pagan festivals and add a keen interest in Hinduism and the shamanic religions of the Americas, some of which use psychedelic plants.
With a writer named Allan Hunt Badiner, Mr. Grey recently edited a book called "Zig Zag Zen: Buddhism and Psychedelics," which seeks to connect two of the Greys' preferred paths to enlightenment. The book comes out in June.
For now, the Greys are living these connections in the heart of Park Slope, trying to shape their own path to psychedelic parenthood while running a small home business. The crosscurrents are sometimes enriching, sometimes not. In the living room, Mr. Grey produced a stack of fliers from rave parties that used his paintings, all without permission and credit. "I'm ripped off constantly," he said.
As the afternoon wore on, the couple's recurring complaint was the same as that heard in households throughout the city. It was in spirit neither sacred nor profane, but in practice a little of both.
"What we really need," said Ms. Grey, surveying their overstuffed home office, "is more space."  For an artistic couple tuned to the universal, here was perhaps the most universal frequency of all.